Get ReadySET Pro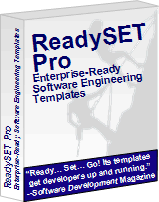 ReadySET Pro helps keep all team members on the same page. Everyone on your development team needs easy access to the templates and associated on-line help and advice. We sell ReadySET Pro in license packages to fit individuals, small, medium, and large teams.
Licenses are needed for each user who writes text into the templates: project managers, product managers, developers, designers, test engineers, technical writers, and others. Users who simply read the resulting documents do not need licenses. It is normal to purchase more licenses than you need at first, so that you have room to grow.
All ReadySET Pro licenses include email support and free updates for one year.
Use the ROI Calculator to estimate the value of the time you will save with ReadySET Pro.
XHTML + MS Office Formats
Team Size
Price
Description
Purchase
Individual
$129

ReadySET Pro core templates
Both formats: XHTML and MS Office

Up to 4
$259

ReadySET Pro core templates
Both formats: XHTML and MS Office

Up to 10
$499
Over 10
Site License
$999
Further Information
For further information, please contact sales@readysetpro.com.
ReadySET Pro licenses are sold through kagi.com. After your order is processed, you will receive an email from kagi.com with download instructions and your license key.
Bonus templates are part of the Methodology Module. The entire Methodology Module will be available for sale in the future.
Current ReadySET Pro customers may purchase upgrades to larger license packs.
Some users will qualify for academic and non-profit pricing.
| | |
| --- | --- |
| | For us all to get ahead, we must leave no one behind. |
RSP Evaluation
See the ReadySET Pro templates, experience how easy it is to "chip away", and estimate the time and money you will save.
RSP Comparison
ReadySET Pro is not the only set of software engineering templates available, but we think it is the best. ReadySET Pro is uniquely modern and agile in its approach, and our integrated sample text greatly shortens authoring time.
RSP Fits Your Process
ReadySET Pro is easy to adopt, customize, and use. ReadySET Pro quickly fits into your process, not the other way around.
Keep the tools and processes your team already knows.
Use all the templates or just those that address your key concerns.
Choose long or short formats, or the all-in-one single-page project description.
It's finally practical for your organization's large and small projects to be documented consistently.
Even mature projects can benefit from ReadySET Pro's release end game support.
Delegate documentation tasks, knowing that the templates ask the right questions and help catch common errors.