ReadySET Pro Academic and Non-Profit Pricing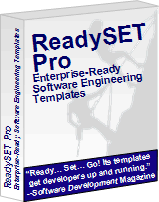 ReadySET Pro helps you do a better job on the documents that you need to make your project a success. The ReadySET Pro templates ask the right questions and provide reusable sample answers that give you a big head start on your own project.
Academic and Non-Profit Purchase Restrictions:
You must purchase ReadySET Pro using an email address associated with your school or non-profit organization.
You may only use your academic/non-profit license for educational or non-profit purposes.
This is an individual, named user license only. Contact sales@readysetpro.com for information on multi-user licenses.
All ReadySET Pro licenses include email support and free updates for one year.
Use the ROI Calculator to estimate the value of the time you will save with ReadySET Pro.
Team Size
Price
Description
Purchase
Individual
$59

ReadySET Pro core templates
Choose one format: XHTML or MS Office.
ReadySET Pro licenses are sold through kagi.com. After your order is processed, you will receive an email from kagi.com with download instructions and your license key.
To discuss other non-profit and educational packages, please contact us at sales@readysetpro.com.
| | |
| --- | --- |
| | For us all to get ahead, we must leave no one behind. |
RSP Evaluation
See the ReadySET Pro templates, experience how easy it is to "chip away", and estimate the time and money you will save.
RSP Comparison
ReadySET Pro is not the only set of software engineering templates available, but we think it is the best. ReadySET Pro is uniquely modern and agile in its approach, and our integrated sample text greatly shortens authoring time.
RSP Fits Your Process
ReadySET Pro is easy to adopt, customize, and use. ReadySET Pro quickly fits into your process, not the other way around.
Keep the tools and processes your team already knows.
Use all the templates or just those that address your key concerns.
Choose long or short formats, or the all-in-one single-page project description.
It's finally practical for your organization's large and small projects to be documented consistently.
Even mature projects can benefit from ReadySET Pro's release end game support.
Delegate documentation tasks, knowing that the templates ask the right questions and help catch common errors.